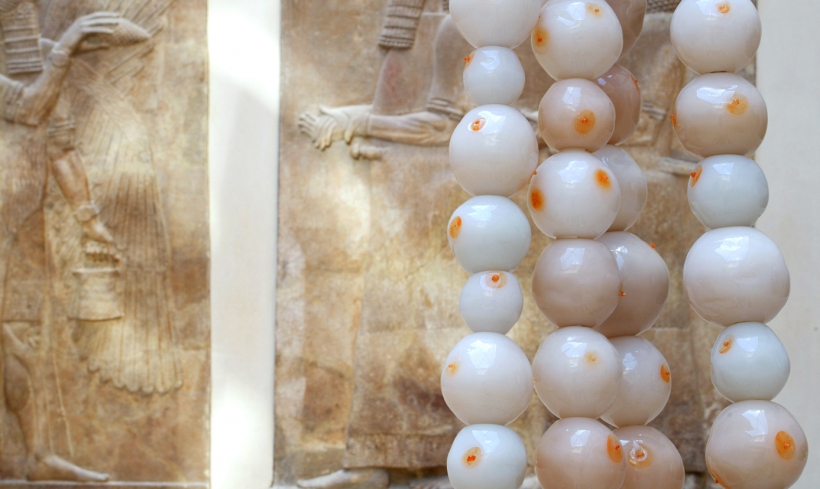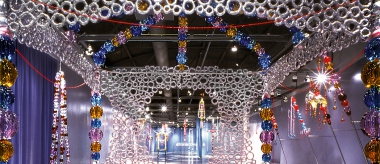 Contrepoint
Novembre 2004 - Février 2005, Musée du Louvre, Paris, France
Découvrir l'exposition
Contrepoint
Exposition collective
Musée du Louvre, Paris, France
12/11/2004 - 10/02/2005
Jean-Michel Othoniel, Crystal Palace
Mai - Août 2004, Museum of Contemporary Art, Miami, Floride, États-Unis
Découvrir l'exposition
This exhibition was based on the idea of a processional that interrupts a dream. An invitation to wander though a space where the body is absent, but from which emerge memories of forms that might have been; a walk among signposts to be discovered on one's own.
The concept of wandering, unrelated to space or time, was born of Jean-Michel Othoniel's relationship with writing. Fairy tales are important for Othoniel, and he frequently invokes them in his work. Here, the holders of palanquins and banners have all fallen asleep, under a spell, as in Sleeping Beauty,. Time has stopped and is crystalized in glass.
The idea of the dream and its relationship to automatic writing is very close to Othoniel's work,  as dreams are open to interpretation but also building blocks for individual stories. Associations and connections are made by the spectator, who is invited to reappropriate the artworks. 
This exhibition offers something timeless: an empty bed where one might have slept or loved, large-scale necklaces evoking the absent body, impossibly heavy and fragile glass banners, a landscape infused with love, golden rainshowers.
Also presented in the exhibition was Lagrimas, a series of glass bottles containing a world of teardrop pendants - glass elements suspended in water-filled vases - made of coloured glass. Fabricated in Mexico, this artwork likens the glass pendants to moods, tears of pleasure, of pain, or perhaps both. These two thousand floating objects are like words in an imaginary musical score.