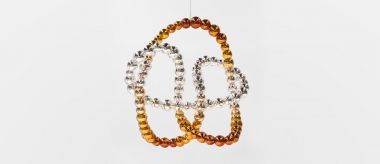 Wild Rosebuds
Juin - Août 2021, Perrotin New York
Découvrir l'exposition
Wild Rosebuds
Exposition personnelle
Perrotin New York
15/06/2021 - 13/08/2021
CP
Opening this Summer at Perrotin New York, Jean-Michel Othoniel will present an exhibition of new sculptures and paintings, titled Wild Rosebuds. Following the debut of his spectacular Rose paintings, which entered the permanent collection of the Louvre in 2020, the artist will pair for the first time works from his Rose and Kiku series. In Wild Rosebuds, the artist continues his exploration of nature through a contemplative and minimal approach, showcasing his romantic vision of the world where simple pleasures, such as flowers, are full of hidden meaning.
Entering the exhibition, the first artwork you will encounter is an abstract sculpture in the shape of a Borromean knot, which appears to be an infinite string of mirrored beads. This sculpture is inspired by a rosebud, which is a symbol of passion that is continually reborn. In the main room, a series of 10 paintings, made with black or red ink on gold leaf, evoke the energy and tension of a single blooming rosebud.
In the center of the exhibition, the artist has staged 7 sculptures in mirrored, colorful glass that are inspired by the chrysanthemum flower. The chrysanthemum, or Kiku, is a symbol of joy, pleasure, and eternity. These sculptures are part of the artist's infinite knots' series, realized first nearly a decade ago in collaboration with Mexican mathematician Aubin Arroyo. Each glass construction is based on a mathematical theory used to calculate the infinities of reflections contained within one sphere of mirrors: "the wild knot theory."
Finally, the exhibition culminates around a large-scale black ink Kiku painting on white golf leaf. The reflective surface of the paintings dialogue with the mirrored branches of the Kiku, infinitely refracting light into all corners of the room.
A major retrospective of this body of works will also be presented at The Petit Palais museum in Paris in September 2021.
NŒUDS SAUVAGE
Mars - Mai 2021, Arsenal art contemporain Montréal
Découvrir l'exposition
L'exposition « Nœuds sauvages » réunit, pour la première fois, la série des sculptures-nœuds de Jean-Michel Othoniel dont les perles de verre miroité dialoguent avec la théorie mathématique des nœuds sauvages. Cette exposition, née de la rencontre entre l'artiste français et le mathématicien mexicain Aubin Arroyo, est l'occasion d'explorer le croisement entre l'art contemporain et l'univers des mathématiques.
Précédemment présentée au Centro Cultural Kirchner à Buenos Aires, l'exposition met à l'honneur les œuvres en verre miroité de l'artiste, dont le plus grand nœd réalisé à ce jour dans ce matériau, Le Nœud Pansy, faisant partie de la collection permanente de l'Arsenal.
C'est en avril 2015 que cette histoire avec les mathématiques nait, lorsque Aubin Arroyo fait part à Jean-Michel Othoniel de ses recherches sur les nœuds sauvages et la théorie des reflets qu'il calcule et analyse depuis plus de 15 ans. L'étonnante ressemblance entre les images virtuelles nées de ces formules mathématiques et les images des sculptures de l'artiste les a menés à une rencontre tant intellectuelle que créatrice.
À Montréal, Othoniel prolonge cette exploration mathématique et présente une grande rétrospective de 25 sculptures-nœuds réalisées entre 2009 et 2019.
Habitant la création de Jean-Michel Othoniel depuis 2008, les nœuds borroméens dessinent, de leurs lignes serpentines, un mouvement suspendu dans l'espace. Faisant dialoguer la poésie de la géométrie et l'abstraction de la forme, ces entrelacs de perles de verre soufflé – le matériau de prédilection de l'artiste depuis 1993 - tracent une construction dynamique et tumultueuse, en un geste calligraphique qui rappelle le goût de l'artiste pour l'écriture et les signes. Circonvolutions, imbrications de courbes où l'on pourrait se lover, les nœuds, autoportés ou suspendus, constituent un véritable défi lancé à la pesanteur.