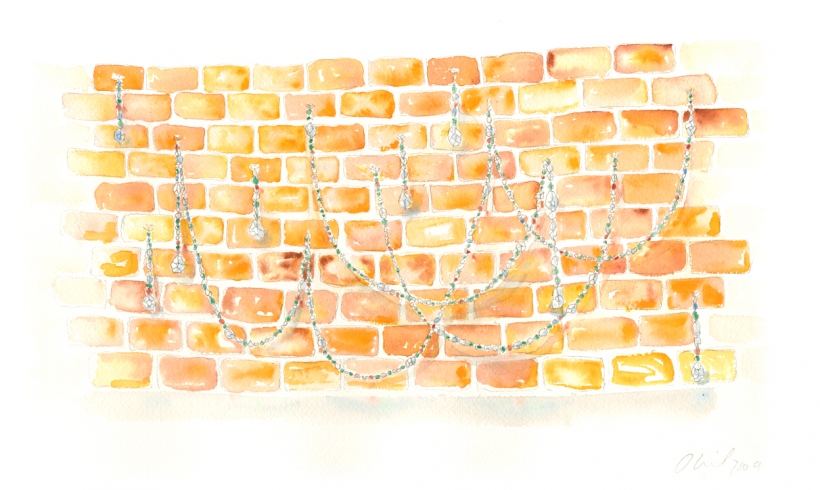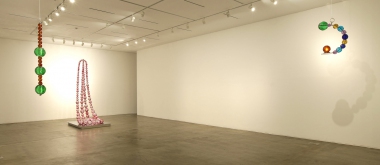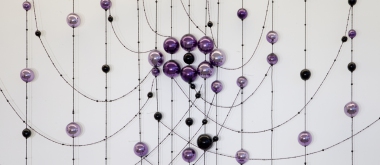 The Precious Stonewall 
August - September 2010, Lalit Kala Akademi, New Delhi, India
Discover the exhibition
The Precious Stonewall 
Personal Exhibition
Lalit Kala Akademi, New Delhi, India
8/28/10 - 9/24/10
Othoniel visited India from 17 to 23 January 2009 with his glassblower partner Matteo Gonet, to discover glass working techniques in this country. This trip was an opportunity for them to visit different markets of beads jewelry in New Delhi, to meet artists and designers working glass and craftsmen producing it. In Firozabad, the Indian city of glass, they discovered the ancient technique of local artisans, which fascinated them.
Othoniel observed their work on glass, directly on the ground, closer to the matter and ovens. Besides, this melee between the melting glass and the man both suffering under sweltering heat touched him deeply. He was able to share the expertise of these artisans and compare it with other glass techniques he met during his travels: Murano glass, glass of St Just, Hawaii glass, Tacoma glass, etc.
In India, all what was granted to him is shaken up. Quality, cutting and blowing techniques, casting and moulding, even the finishes: everything is different, but just as rich and interesting for the artist. Shapes and colors have inspired as well as many objects made of glass sold on the streets and in the markets (bracelets, lamps, furniture, vases ...).
As soon as he got back, Othoniel created the Precious stonewall, a gigantic wall made of hundreds amber glass bricks, molded in Firozabad. He then hung pearl necklaces on it, as offerings, carved by Indian techniques. This work is a tribute to the piles of bricks that line up the Indian roads adorned with hundreds of necklaces, each stone is hand cut as a gem. This monumental work is also a poetic tribute to the iconic Stonewall Inn in New York, where the gay rights movement was born.
Jean-Michel Othoniel
May - June 2010, Kukje Gallery, Seoul, South Korea
Discover the exhibition
Kukje Gallery presents a two-man exhibition of Jean-Michel Othoniel and Xavier Veilhan, renowned contemporary artists based in France. 
Othoniel has independently developed his own aesthetic sense in various mediums including installation, sculpture, and performance since the early 1990s. has focused on reversible questions related to the characteristics, transformations and sublimations of matters. He has sought to communicate these issues with the viewers and the world. His interest on the subject has developed into numerous projects that have combined endless exploration and understanding of materials' physicality. The sensuality in Othoniel's work has been highly regarded both in France and internationally. This is the first exhibition of the artist in Korea at Kukje Gallery. The exhibition will be comprised of twenty artworks including sculptures, paintings and large-scale installations.
Chefs-d'œuvre ?
May 2010 - August 2011, Centre Pompidou Metz, France
Discover the exhibition
Chefs-d'œuvre ? is a historic cultural event in many ways. Inaugural exhibition of the Centre Pompidou-Metz, it opens forcefully the first decentralization of a major national cultural institution, the Centre Pompidou, in partnership with local authorities, the City of Metz in this case, the Metz Urban Community metropolis, the Department of the Moselle and the Lorraine region.
It perfectly illustrates the cultural project of this new institution, born in the heart of Europe, which offers to a wide audience a compelling program along the lines of the Centre Pompidou values - innovation, openness to all audiences, multidisciplinary - and based on its expertise, network and reputation. The Centre Pompidou-Metz has a unique asset, privileged access to the Musée national d'art moderne's treasures, which with nearly 100 000 works, have the most important modern art and contemporary art collections in Europe.
Unique event by its scenery and variety of works shown, Chefs-d'œuvre ? is the largest transaction of loans in the history of the Centre Pompidou, and invests all the exhibition spaces, more than 5000 square meters of the building designed by Shigeru Ban and Jean de Gastines. Into four sections, the exhibition questions the notion of masterpiece, its history and current events. The questioning of this notion, old and sometimes seen as outdated, is reactivated here and applied to modern and contemporary works.