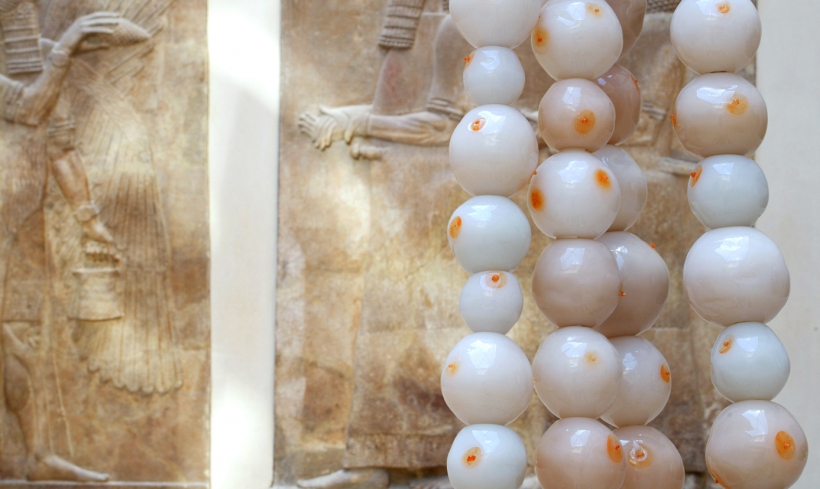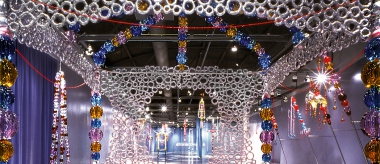 Contrepoint
November 2004 - February 2005, Musée du Louvre, Paris, France
Discover the exhibition
Contrepoint
Collective Exhibition
Musée du Louvre, Paris, France
11/12/04 - 2/10/05
Jean-Michel Othoniel, Crystal Palace
May - August 2004, Museum of Contemporary Art, Miami, Florida, USA
Discover the exhibition
The exhibition is based on the idea of a procession. A procession that pierces the sleepiness of a dream. An invitation to stroll though a space where the body is absent, but out of which emerge the works on display, memories of forms one might have carried; a walk among signposts to be discovered on one's own, for oneself.
This idea of angering without any unity of space or time, was born out of Jean-Michel Othoniel's relationship with writing. Fairy tale is, of course,  a vivid model for the artist which he invokes often in his work. Here, as in The Sleeping Beauty, the holders of palanquins, banners and standards all fell asleep, under the spell. The has stopped, crystalized in glass.
The dream is probably a better model as automatic writing because it is much more open and made up of suggestive elements that become the building blocks of each's one story. It is through the eye of the beholder that the associations and connections between things are made. The works are open to reappropriation. 
This exhibition offers something timeless: a bed where one could have slept or loved, huge necklaces reminiscent of an enormous absent body, impossible-to-carry glass banners, a landscape infused with love, golden rains that spilt up the space.