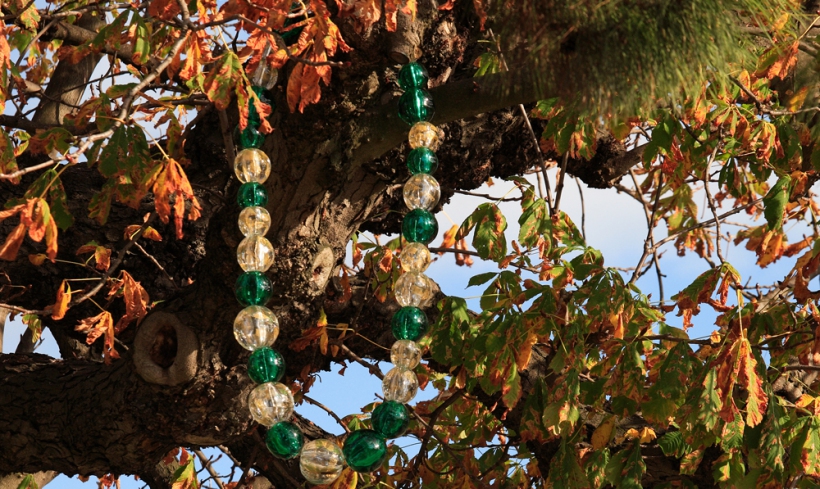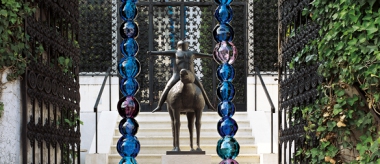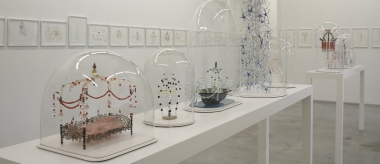 Sculptures and outdoor artworks, Tuileries Gardens
October 2006, FIAC, Tuileries Gardens, Paris, France
Discover the exhibition
Sculptures and outdoor artworks, Tuileries Gardens
Collective Exhibition
FIAC, Tuileries Gardens, Paris, France
10/26/06 - 10/30/06
Peggy's Necklace
April - May 2006, Peggy Guggenheim Collection, Venice, Italy
Discover the exhibition
On the occasion of his exhibition at the Peggy Guggenheim Foundation from 29 April to 27 May 2006, Jean-Michel Othoniel shows 7 artworks installed on the Palace's facade, facing the Grand Canal. In the center of the building, a giant necklace made especially for this occasion in collaboration with Murano glassblowers adorns the museum's entrance, inviting the public to pass through. This monumental piece of 9 meters high, the Peggy's necklace, is surrounded at its base by 4 sculptures in aluminum and glass: the Candélabres and the Géométries amoureuses. Facing the windows, two Amants suspendus suspended frame the top of the collar. This exhibition is an homage to the venetian glassblowers of Murano whom Jean-Michel Othoniel collaborate for with for many years. 
Echoing the exhibition, another installation of the artist will be visible from the Grand Canal on the facade of the Palace Brandolini from April 29 to June 25. A series of Banners and Candélabres will take place at the Palace balconies as to revive the splendor of Venetian parties of the seventeenth century.
Drawings
March - April 2006, Galerie Perrotin, Paris, France
Discover the exhibition
Drawings
Personal Exhibition
Galerie Perrotin, Paris, France
3/18/06 - 4/29/06
See publication
For the first time at the Galerie Emmanuel Perrotin, Jean-Michel Othoniel shows a selection of 100 watercolors, origin of his projects and an intimate view of his work around a small pavilion and 16 glass models. Presented here for the first time, these drawings and models are a window opening on the wonderful world of the artist.
To coincide with the event, Flammarion is publishing a book featuring a text by Christine Angot and 130 watercolors executed by Jean-Michel Othoniel from 1997 to 2005.