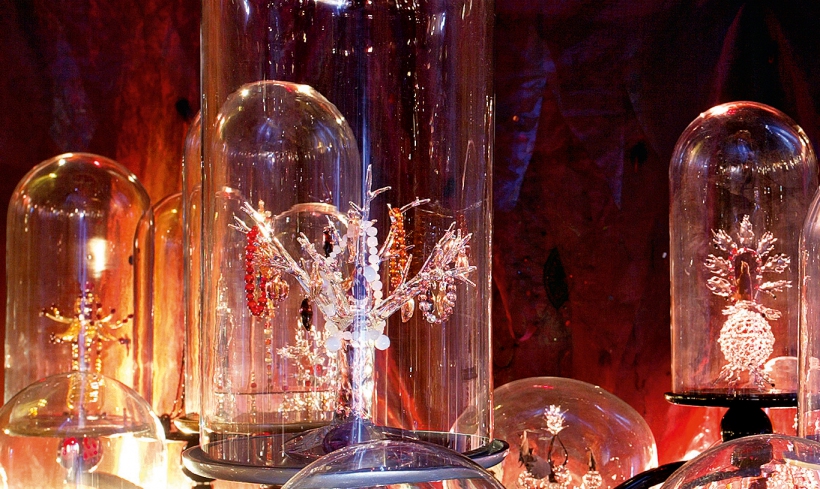 Le Petit Théâtre de Peau d'Âne
February - March 2005, Théâtre du Châtelet, Paris, France
Discover the exhibition
Le Petit Théâtre de Peau d'Âne
Personal Exhibition
Théâtre du Châtelet, Paris, France
2/7/05 - 3/12/05
See publication
Le Petit Théâtre de Peau d'Âne, a major piece in Jean-Michel Othoniel's work, plays the meeting of two fantasy worlds, two artists universes loving travel, exoticism, theatricality, objects and games.
Othoniel proposes a series of works, fragile glass architecture, designed to receive Pierre Loti's Petit Théâtre de Peau d'Âne. The Lilliputian size of the characters made by the writer from 1857 gives the scale to the entire installation created in 2004 for the Théâtre de la Coupe d'Or.
The focal point in the center of the Italian set invites visitors / viewers to go up on stage. Standing on a table, recalling the exposition of Baroque architectural models, this intimate landscape is protected by large glass domes. The whole installation is caught under a gold embroidered veil using the rochefortaise tradition. This suspended farthingale is a fantasy replay of Peau d'Âne (Donkey Skin) by Jacques Demy: a dress the color of the sky, a dress the color of the moon, a dress as bright as the sun. This work is a small theater within the theater, a staged sculpture, a mise en abîme of a child's look.