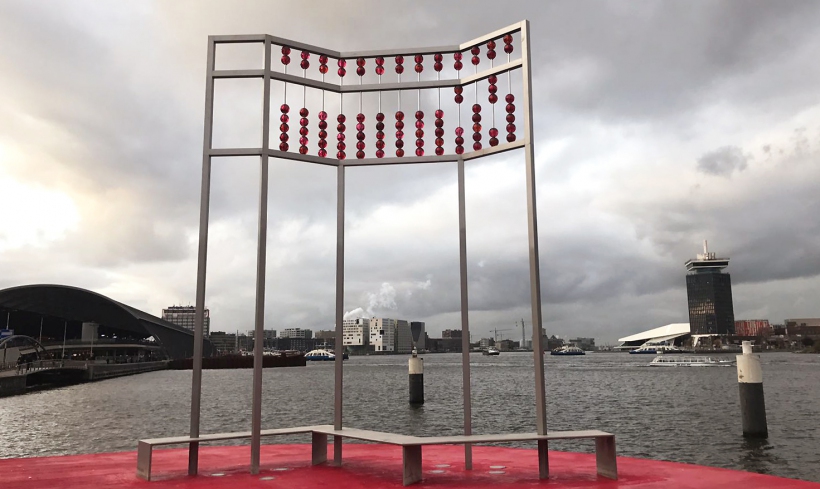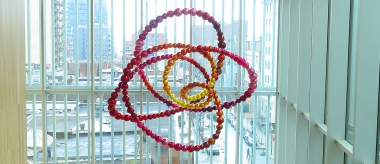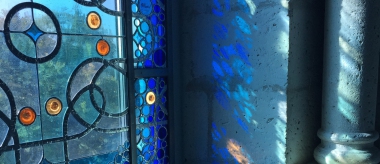 Living by numbers, AIDSmonument Amsterdam
December 2016, Amsterdam
Discover more
Living by numbers, AIDSmonument Amsterdam
Amsterdam
12/1/16
On the first day of December,  World Aids Day, Living by numbers, AIDSmonument Amsterdam, the artwork created by Jean-Michel Othoniel will be unveiled.
The monument, a 7 meter high abacus will first count the number 2030, the year the International community agreed to end AIDS.

Living by numbers
"This monument interacts with our thoughts, indicating primarily that the only real
interaction is inward, regarding our demands in the face of illness and not giving up.
The beads on this abacus are joyful, coloured and even festive, indicating that there is
hope and that we must thank all those who have kept us alive (lovers, friends, relatives,
doctors…).
The abacus evokes the number of people who are ill, who have departed, but also the number of
people involved in the fight, the number of hours and the amount of energy that has
been linked to this fight against AIDS for so many years.
It is also a tribute to the city of Amsterdam, to its activity, to its port, to the number of
commercial and cultural exchanges, to the transactions, to its wealth, to the differences
that have arrived by sea for centuries. The large bench will be facing the sea is a place and time for contemplation. It is an invitation to look to the horizon and hope for better times.


Thinking by number
Relying on each other. Relying first of all on oneself and recognising all those who count and have counted. For all these years, all
we have done is count: our days since the arrival of AIDS, our dead friends, the days on which we have beaten illness, our hopes,
our therapies, the number of ill people we know, our hours of happiness. It is also relying on others, on their determination.
These beads allow us to visualise the number of hours we have devoted to the fight. This huge abacus shall be a sign of hope showing
that there is an end to this counting. This monument is there so that we do not forget that we have to continue to fight for that."

Jean-Michel Othoniel
Unveiling - Pavilion for Peace - MMFA
November 2016, Montreal Museum of Fine Arts
Discover more
On Monday, November 7, 2016, will be unveiled The Michal and Renata Hornstein Pavilion for Peace in the Montreal Museum of Fine Arts, on the occasion of Montreal's 375th anniversary.

Jean-Michel Othoniel's Peony, The Knot of Shame, his monumental sculpture inspired by the shape of the peony flower, recently acquired by the Museum, will be now permanently on display in its new glass and steel frame.

Public opening on November 19, 2016.
Le Trésor de la cathédrale d'Angoulême
September 2016
Discover more
Le Trésor de la cathédrale d'Angoulême staged by Jean-Michel Othoniel has been revealed on September 30, 2016

In 2008, the Regional Cultural Affairs Directorate in Aquitaine - Limousin - Poitou-Charentes (DRAC) undertook the restoration of the Cathedral Saint-Pierre of Angoulême. They initiated an ambitious project to restore the edifice to its Romanesque state, in keeping with its nineteenth-century renovation by French architect Paul Abadie, known for designing the Sacré Cœur basilica in Paris. Inside, the DRAC and the clerical authorities also wanted to select objects from its collection of liturgical art, from a little-known period reflecting the nineteenth-century's religious fervor, and present them to the public in areas never before opened to the public. For this public art commission, which also received support from ENGIE, they chose Jean-Michel Othoniel, whose work links history and contemporary art and has an auratic quality. Othoniel has been working on the project for more than eight years.

Over the past few years, Othoniel has been working in three of the cathedral's non-holy areas into a treasury for liturgical art, collaborating with celebrated artisans to transform them into a highly personal world. Inspired by the interlacing geometric patterns and colors in Romanesque art, he decorated the floor and walls with intricate patterns, created monumental stained-glass windows in various shades of blue, the color of the Virgin's mantle, and designed elaborate beaded furniture to hold the treasury's art objects and statuary. While utterly contemporary, Othoniel's multidimensional artwork, which received financial support from the center for French historical monuments, also adheres strictly to the standards for preserving architectural landmarks. Decorative and dramatic, this spectacular three-tiered work embraces both the intimate and the sublime, and restores ideas of man, the universal and the sacred to the heart of the cathedral's Trésor.