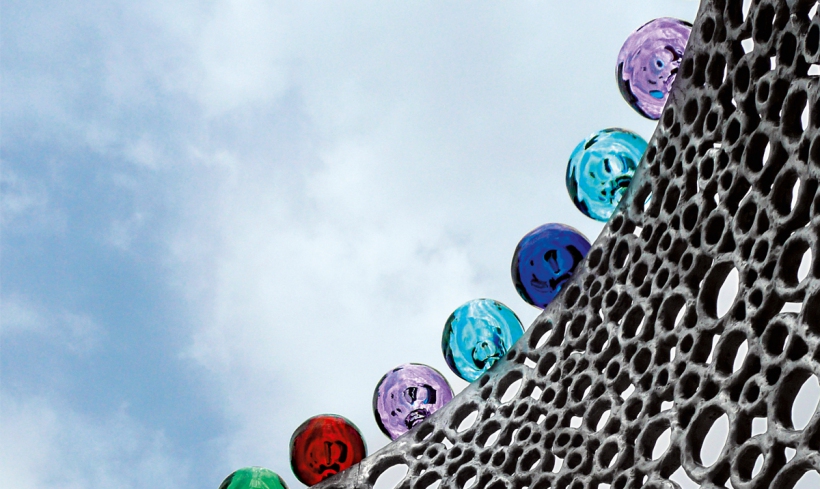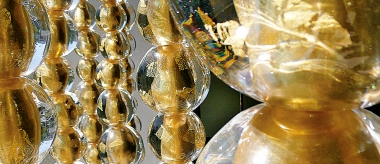 Le Confident
November 2007, Square Docteur Lépine, Nice, France
Discover the artwork
Le Confident
Public commissions
Square Docteur Lépine, Nice, France
11/23/07
In 2007, 15 internationally renowned artists - including Ben, Michael Craig Martin, Pierre Di Sciullo, Gunda Förster, Yann Kersalé, Jaume Plensa and Jean-Michel Othoniel - were chosen to invest urban Nice with works along the Nice Côte d'Azur tramway Line 1. They created permanent, site-specific artworks to enhance public spaces around the city.
Dealing with the theme of the "paysage diurne," or the daytime landscape, in which public spaces are treated as urban parlours, Othoniel designed Le Confident:
"Given the complexity of the public square (Square du Doyen Lépine), which is a crossroads for several different types of motion (tramway, pedestrians, cars) and different kinds of visitors, both young and old; and the challenge of providing street furniture that would neither encourage crowding nor be restricted only to individuals, I came up with the idea of creating a conversation." Jean-Michel Othoniel
A large-screen, curved aluminum veil crowned by a string of colored-glass beads, Le Confident delineates two protected sitting areas that invite passersby to slow down and dream. The aluminum holes are dense on one side and open on the other, which both creates privacy and encourages conversation. The work is like an outdoor confessional, at once public and private, allowing intimacy and openness, and shelters visitors from the urban environment like a protective bubble.
Othoniel's Confident transforms Nice's tramway station Square-Doyen Lépine into a Garden of Eden, at once discreet and convivial.
Rivière d'Or (Golden River)
September 2007, Beverly Hills, Los Angeles, California, USA
Discover the artwork
Following Le Grand Collier Blanc (The Great White Necklace), created by Jean-Michel Othoniel in 2006 for Chanel in Hong Kong in collaboration with Peter Marino, the artist created Rivière d'or (Golden River) for Chanel Beverly Hills, California, in 2007.
Exploring the relationship between monumentality and fragility, Othoniel created a rosary of golden Murano glass beads, like a luminous dreamcatcher. Rivière d'or captures the attention of the passers-by and encourages them to dream. It is an object of wonder, like an oneiric "fantasy-induction device" (Catherine Grenier) onto which they project their desires. Like James Lee Byars, who saw in art the only bearable means of escape for the human spirit. Othoniel creates works whose ineffable beauty go beyond artistic research, and become a way of life.
Rivière d'or refers to the origin myth. Using glass to immobilize the universal symbol of gold, it evokes the Lost Rivers of the Garden of Eden and Danae receiving the golden rain. Glass is fixed and unalterable but retains the memory of it original iiquid state; it suggests a labyrinthine stream of mythological nectar, or fossils from the Golden Age.