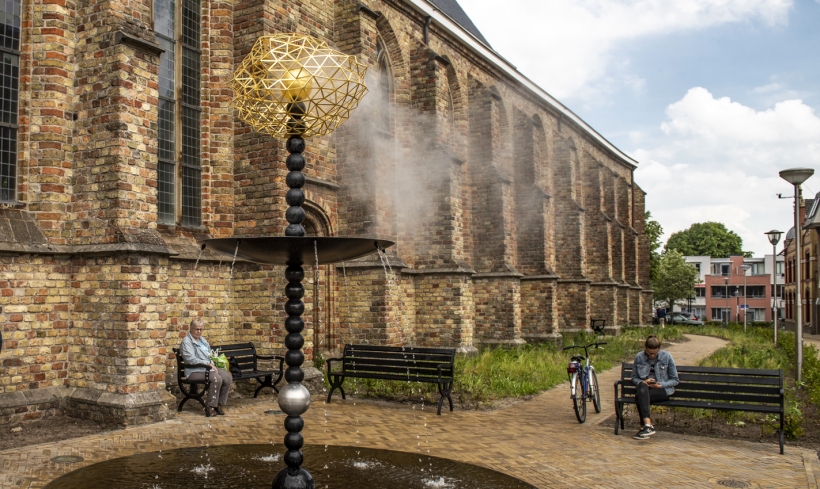 The Oort Cloud Fountain
May 2018, Franeker,Netherlands.
Discover the artwork
The Oort Cloud Fountain
Private commissions
Franeker,Netherlands.
5/18/18
See publication
"The Oort Cloud Fountain is inspired by the spirit of the city of Franeker and its people.
For this project of the 11 Fountains, I discovered the region of Friesland is really graced by the purity of the landscapes, the vast presence of the sky and the very preserved state of the place.
The stylistic coherence of the town of Franeker, its unique medieval style, its size on a human scale invites to walk between the university, the stadium and the market square near the church. I wanted my fountain to be an opportunity to create a new meeting place in the city. Franeker is a city of knowledge that has welcomed many thinkers and has seen the birth of one of the most important astronomers of the twentieth century.
It is in tribute to Jan Hendrik OORT and the cloud that bears his name that I designed this fountain. We are only one point in the universe, that's why I wanted my fountain to have a human scale. It recalls the wonderful fountains of the Middle Ages, the fountains of youth or immortality. Water was then an element of life and mystery respected by all.
The Oort cloud is made of a metal mesh that surrounds a sun bead gilded with gold leaf. This mesh releases a drizzle that falls in fine rain in the large basin. From this large basin emerges a series of 8 jets cascading into the large circular basin on the floor.
Of all these concentric circles which recall the concentric displacement of the planets rises the mast which supports the basin and the cloud. This mast is composed of enamelled pearls black as night. Only two large pearls stand out; one silvered in the colors of the moon, the other golden in the colors of the sun. I hope the people of Franeker and the visitors of the city will meet around this artwork. If, thanks to the benches surrounding it, the fountain becomes a meeting place we will have then managed to create a new destination in the Region and the city. This project is also an opportunity to create a new garden in the city, a garden where, thanks to the talent of the landscape architect Piet Oudolf, unique flowers that will make us rthink of the tapestries with the thousand flowers of the Middle Ages. I wanted this sculpture it to be close to the people of the city and hope it becomes one of Franeker's symbols. "